About Worldair Holidays
We, World Air Tours & Travels, is a profiled Destination Management Company, managed by a young team of pioneers from the travel and hospitality industry. Our expert and experienced team of professionals assure that our clients receive service tailored to their requirements. We started our journey in the tourism business with a passion to get travellers off the beaten track in to their dream destinations.
We wanted to share some of the special places we knew and introduce our travellers to different cultures and ways of life. We wanted to develop a style of vtravel that was all together different, where as travellers we became a part of the country and not just tourists looking in. We wanted to have fun, meet people, learn things, explore and do stuff we could never do at home. We wanted to travel by anything and everything, and stay anywhere!
We wanted to be witty and creative about what we did!
We wanted to be different and we are!!
Leave your dreams with us, rest assured!!
About Kerala
Kerala, located on the South western tip of India, enjoys unique geographical features that have made it one of the most sought - after tourist destinations in Asia. Fondly referred to as 'God's Own Country', Kerala was selected by National Geographic Traveller as one of the 50 top "Destinations of a Lifetime" and one of the thirteen "Paradises in the World". An equable climate, serene beaches, tranquil stretches of backwaters, lush hill stations and exotic wildlife are the major attractions of this land.
A unique advantage of Kerala is that most of the destinations here are just two to four hour drive from the other. Classical art forms, colourful festivals, unique cuisine are some of the cultural marvels that await travellers. Ayurveda, the ancient Indian system of medicine and Panchakarma, the rejuvenation therapy in Ayurveda have also helped Kerala to gain a pan-global reputation as a top of the line destination. And in Kerala, the season never ends, thanks to the year-long moderate climate and numerous festivals and events.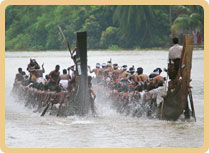 Boat Race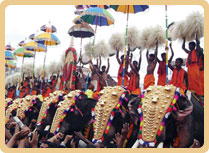 Pooram ( Festival )